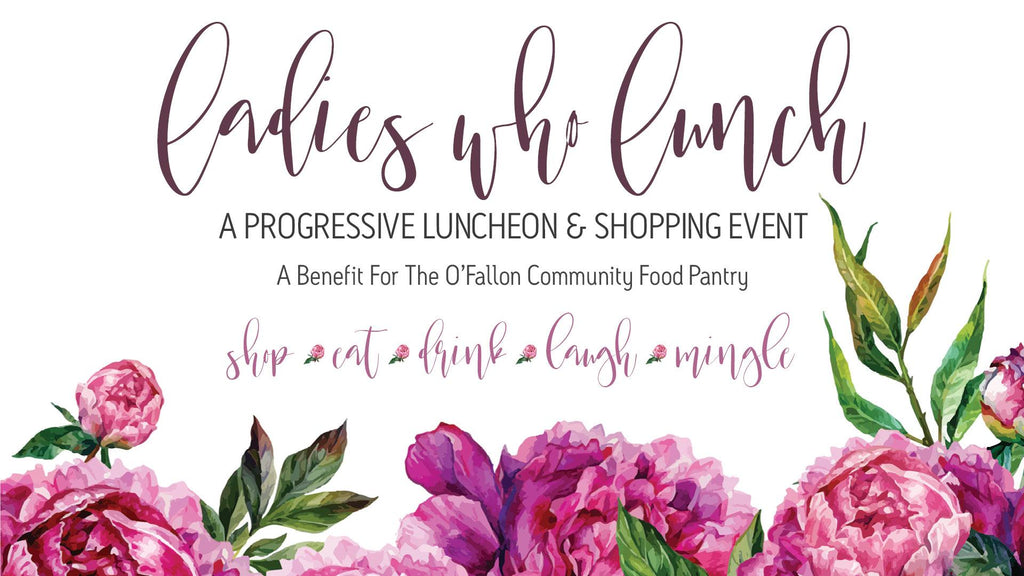 courage&grace
!!! Ladies Who Lunch
A PROGRESSIVE LUNCHEON & SHOPPING EVENT -
A PROGRESSIVE LUNCHEON & SHOPPING EVENT ON SATURDAY SEPTEMBER 21ST AT 11AM - Hosted by Kloss Furniture, Sips-n-Splatters, Courage & Grace, Fezziwig's Marketplace, Unity Yoga & Wellness, Steven Mueller Florist, Furchild Pet Boutique, Refinery Salon, Sweet Katie Bee's, Three Sisters Crafts, Art Gecko Creative Studio, Kool Beanz Cafe, and Bellissimo Photography Studio.
Proceeds benefit the O'Fallon Community Food Pantry. TICKETS: $10 in advance (see ticket info above) or $15 at Kloss Furniture on the day of the event. Grab your girlfriends and join us for the 3rd annual progressive luncheon at O'Fallon's most unique shops.
Each local shop will be serving complimentary food and offering exclusive shopping deals and discounts just for you! At the end of the day, you will also have the chance to win attendance prizes!
The fun begins at Kloss Furniture where you and your party can get started anytime between 11:00 AM and 1:00 PM. The event concludes at 4:00 PM
---
Share this Product