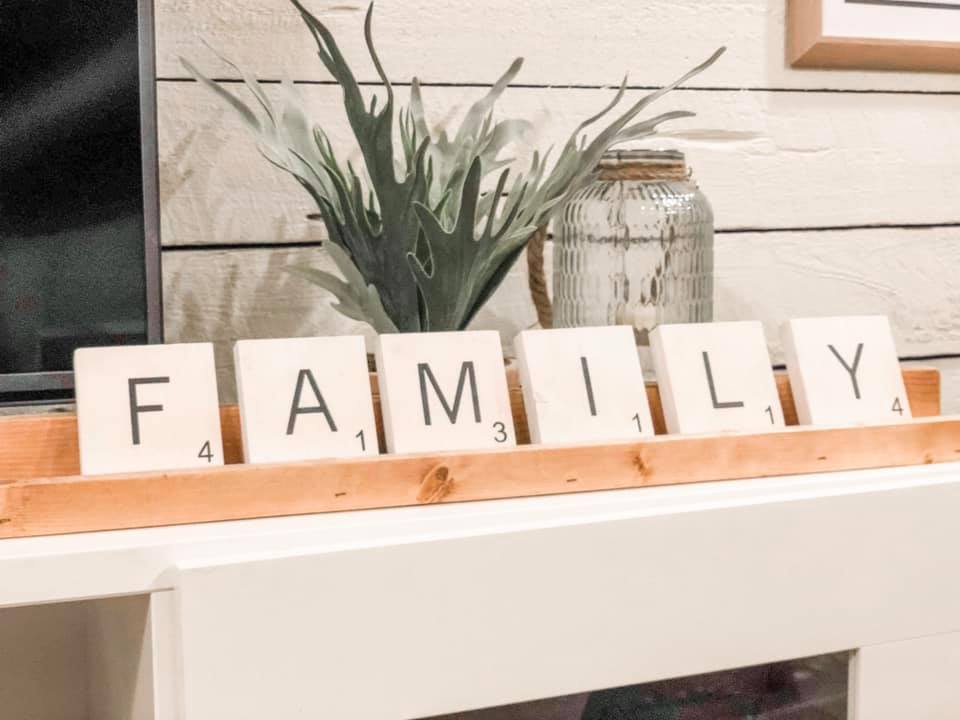 courage&grace
02/11 Custom Scrabble Tile and Rack O'Fallon pick up 5:30 - 6:30 pm
Drive Through DIY!!!
 ***Drive up is available so you can get your kits without leaving your car! Please pull up to our SIDE door, off Oak Street and we will meet you out there with your kit!***
Drop by our workshop Thursday, February 11th from 5:30 - 6:30 pm for this DRIVE BY DIY  where you can choose this FAMILY tile tray to take home and paint. All materials will be provided for you to paint your sign, customized to your home decor, your style, and what makes YOU happy!
Please understand that wood is a natural product, and will have grain, knots, and other characteristics that make each sign unique and perfectly imperfect.
This set will include the squares, tray, stencils, foam brush, sandpaper, white sponges, paint, and stencils.  Paint colors included will be white and black for tiles, and your choice of paint for the tray.  

Each tile is approximately 3.5", and the total tray length is approximately 14" for 4 tiles,  24" long for 5/6 tiles, and 29" for 7/8 tiles, and 36" long for 9/10 tiles.
 Location: courage&grace's workshop - located at 300 West State Street in O'Fallon, IL
Our terms and conditions are as follows:
Cancellation Policy: Due to the customizations at ALL our workshops, there are NO REFUNDS FOR WORKSHOPS! However, if you cancel with at least 48 hours notice your FULL reservation fee will be turned into a store credit that can ONLY be used for future workshops. If your cancellation falls within 48-24 hours of the workshop, HALF of your reservation fee will be turned into a workshop credit. If unforeseen circumstances require you to cancel the SAME DAY of a workshop you are scheduled to attend, we suggest you find a frie

nd or family member to come pick up in your place so that you are not out the fee you paid. Same day cancellations or no-shows will NOT get a credit for a future workshop! Please private message us on Facebook or email us courage.and.grace.designs@gmail.com to cancel.   Items will be held for 30 days and then will be considered abandoned, and no longer available. 
Courage&Grace can change these terms at our discretion.
---
Share this Product